CARROT CAKE WITH PÉRIGORD WALNUTS, CARAMEL GLAZE
---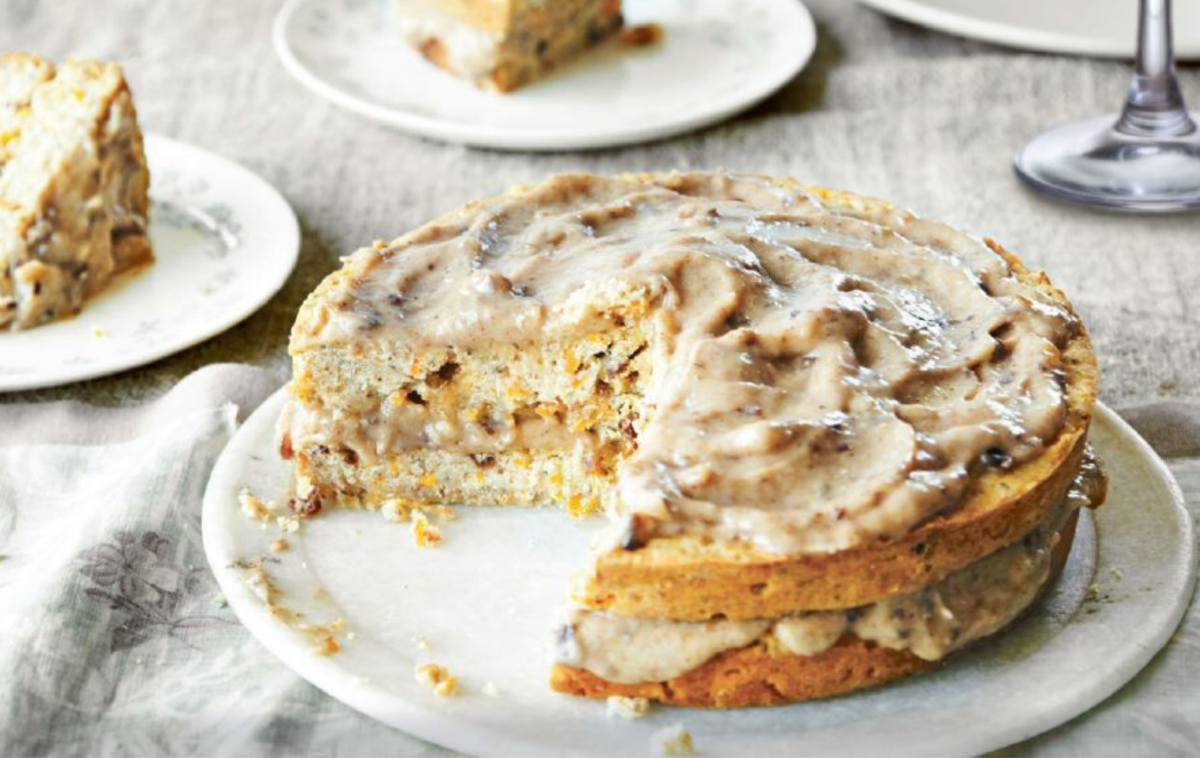 BY AUDREY COSSON
Serves 12
Preparation: 35 minutes.  Cooking: 30 minutes.
INGRÉDIENTS
2 mugs of wholemeal rice flour
2 mugs of wholemeal rice flour or buckwheat flour (400 g)
1 mug of ground Périgord walnuts (120 g)
2 tbsp chia seeds
1/3 mug of raisins (65 g)
2 pineapple slices (225 g)
1 mug of almond milk (300 ml)
1/2 mug of maple syrup (150 ml)
3 carrots (250 g)
Périgord walnut oil, for greasing
For the glaze:
3 large bananas (350 g)
10 Medjool dates, pitted
2 tbsp almond butter
1 tbsp coconut oil
1 tsp ground cinnamon
PREPARATION
Preheat the oven to 180°C (fan oven): 160°C). In a mixing bowl, combine the flour, the ground Périgord walnuts, the chia seeds and the raisins. Blend the pineapple, almond milk and maple syrup in a blender until perfectly smooth. Pour the liquid into the bowl. Peel the carrots and grate them finely. Add them to the bowl and mix carefully, to obtain a smooth dough.
Oil 2 cake tins 24 cm in diameter with walnut oil, then divide the mixture equally between the 2 tins. Bake for about 30 minutes, until the top is golden brown. When the cakes are baked, take them out of the oven and let them cool for about 10 minutes on a cake rack (this is really important, as this is the stage when the cake finishes setting).
While the cakes are cooling, put all the icing ingredients in a blender with 4 tablespoons of water and combined until smooth and creamy. When the cakes are cold, spread half of the frosting on one cake, then place the second cake on top. Put the rest of the
mixture on top of the two-layer cake.
W

hat to drink with it?
SERVE WITH...
Sweet white Côtes de Bergerac

Its notes of candied fruits combine beautifully with the earthy and exotic flavours in the recipe.
Saussignac
This sweet white wine boasts a host of nuances, more finesse than strength. Enough to take the dessert in unexpected aromatic directions!