CHESTNUT MOUSSE, CARAMELISED HAZELNUTS, FLEUR DE SEL PRALINE
---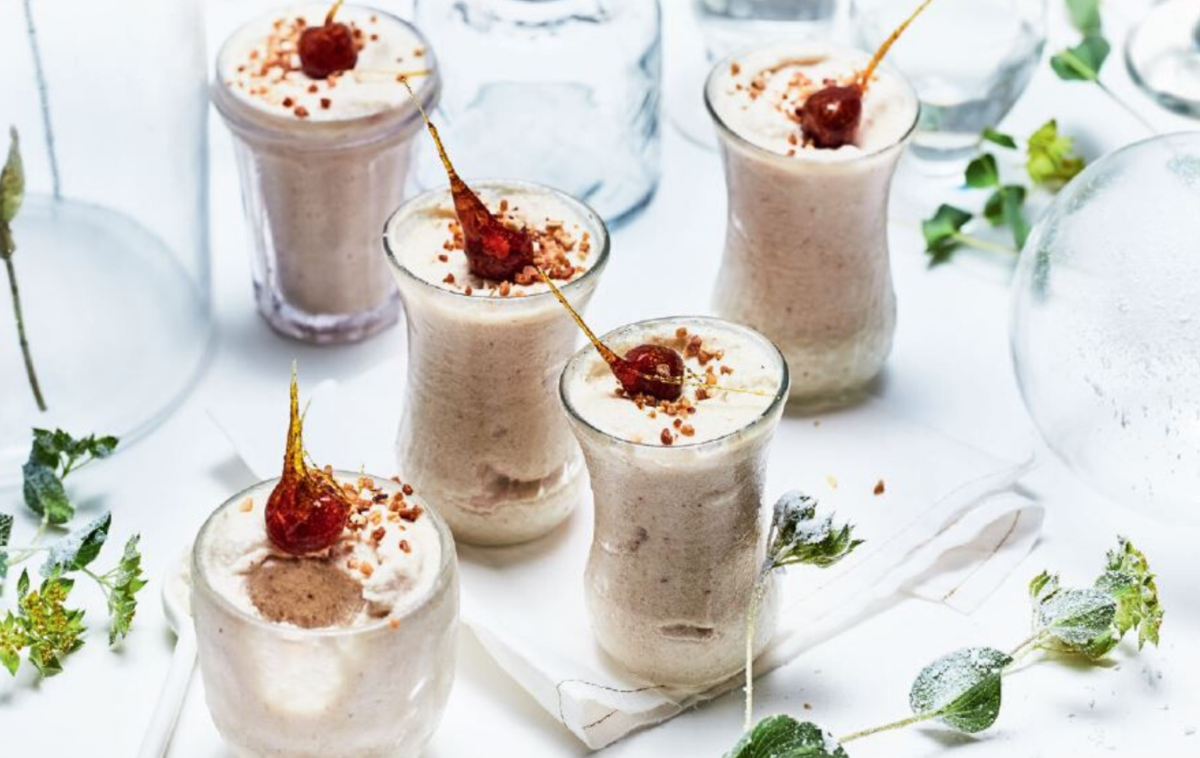 BY AUDREY COSSON

Serves 6
Preparation: 20 minutes. . Resting: 4 hours. Cooking: 15 minutes.
INGRÉDIENTS
For the mousse
20 cl very cold full-fat cream
1 sheet of gelatine
240 g creamed Périgord chestnuts
For the praline
75 g caster sugar
75 g almonds and hazelnuts
1 pinch of fleur de sel
For the caramelised hazelnuts
6 shelled hazelnuts
80 g caster sugar
For the caramelised hazelnuts
6 shelled hazelnuts
80 g caster sugar
PRÉPARATION
1. The day before or at least 4 hours before serving, prepare the mousse. Soak the gelatine in a bowl of cold water to soften. In a saucepan, warm through the creamed Périgord chestnuts. Off the heat, add the gelatine that you have squeezed well. Whisk together. Leave the mixture to cool in a bowl.
2. In a cold bowl (put it in the freezer for 10 minutes with the whisk), whip the cold cream into a firm whipped cream. Fold it into the creamed Périgord chestnuts using a flexible spatula. Pour into 6 small ramekins and leave to set in the refrigerator for at least 4 hours.
3. The day before or a few hours before serving, prepare the praline. Put the sugar, fleur de sel and nuts in a frying pan. Over a medium heat, stir until the sugar is melted and begins to caramelise. When the caramel completely coats the nuts, pour onto a baking tray lined with baking paper. Leave to cool until the caramel is hard, then blend in a food processor to obtain a coarse praline powder.
4. Prepare the caramelised hazelnuts 1 hour before serving the dessert. Push a wooden toothpick into each hazelnut. Melt the sugar in a saucepan without stirring it until you get an amber caramel. Dip the hazelnuts one by one into the caramel over a low heat, then take them out, letting the caramel flow downwards. Leave to cool on a wire rack or by sticking the toothpicks into an orange, for example. The caramel will harden quickly. Remove the toothpicks carefully.
5. Just before serving, sprinkle each ramekin with praline and decorate with the caramelized hazelnuts. Serve immediately.

W

hat to drink with it?
SERVE WITH...
HAUT-MONTRAVEL
The simplicity of the dessert allows the wine to add its own aromatic touch with spicy hints of ginger and cinnamon. A treat!
ROSETTE
This sweet wine of great distinction is the ideal balance; its delicate play on texture will not dominate this airy dessert.