CROMESQUIS OF FOIE GRAS AND WALNUTS, STRAWBERRY JAM
---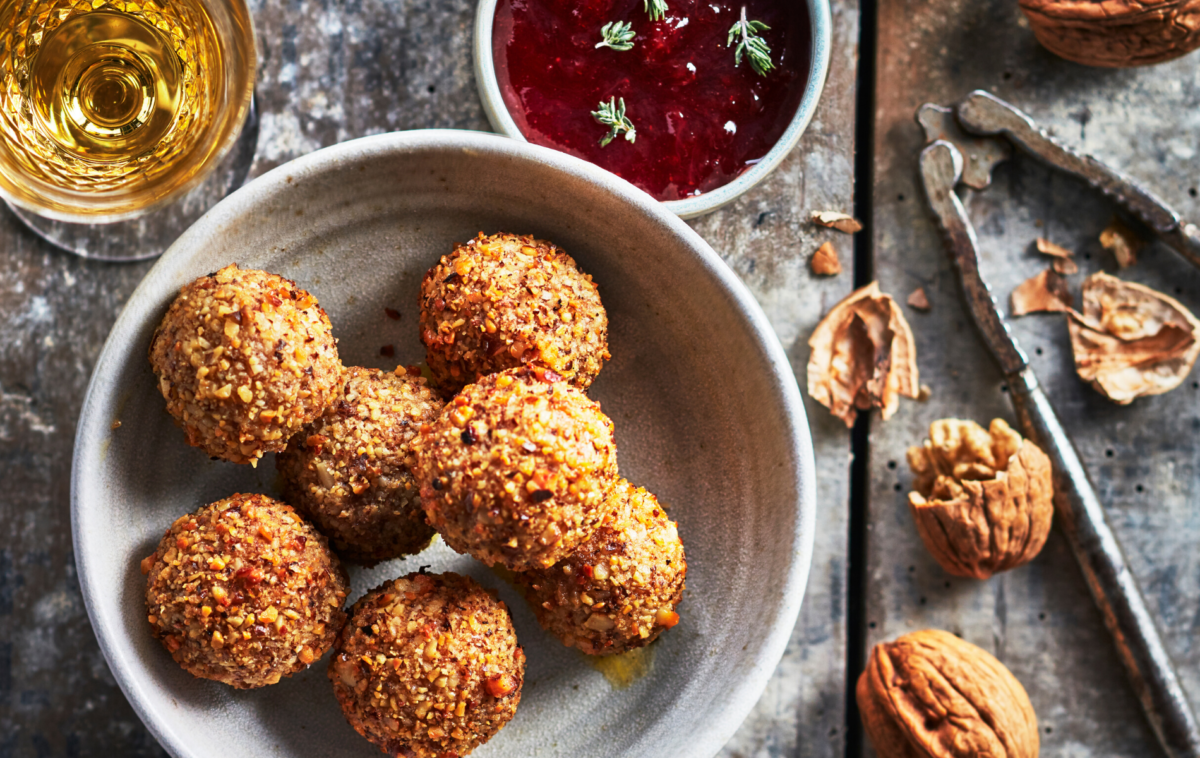 BY AUDREY COSSON

Serves 4
Preparation: 30 minutes.  Cooking: 40 minutes. Resting: 1 night
INGRÉDIENTS
For the jam:
500g Périgord strawberries
200g caster sugar
Juice of 1/2 lemon
4 sprigs of thyme
For the cromesquis:
100g ground Périgord walnut kernels
160g cooked whole duck foie gras from Périgord
50ml liquid crème fraîche
50g flour
1 egg
Frying oil
Fleur de sel, pepper
PRÉPARATION
The day before, hull and quarter the strawberries and place them in a saucepan with the sugar and lemon juice and bring to the boil. Lower the heat, add the thyme and simmer for about 30 minutes while skimming regularly. Once the jam has set, remove from the heat and allow to cool before placing in the refrigerator.
Cut the raw foie gras into 8 slices. Heat a frying pan over a high heat and fry each slice for 1 minute on each side. Remove from the pan and keep warm, keeping the juice. Chop the foie gras into small pieces and put them in a bowl. In a saucepan, gently simmer the crème fraîche then pour it over the foie gras. Blend with a hand blender until smooth, season with salt and pepper. Pour into the cavities of a 40 mm diameter half-sphere mould and refrigerate over night.
On the day of serving, finely chop the walnuts. Turn out the half-sphere moulds, assemble them in pairs to create spheres. Roll each sphere in the flour, then in the beaten egg and finally in the walnut coating.
Heat the frying oil to 180ºC. Fry the cromesquis until golden brown. Place them on a sheet of kitchen paper before serving them with the strawberry jam.

W

hat to drink with it?
Accompagnement
MONBAZILLAC
Its freshness and rich aromatic range with fresh scents of honey, acacia flowers and candied citrus are a perfectly balanced match with foie gras.
RED BERGERAC
An immediately delicious pairing with this soft wine and its aromas of red berries underlining the earthy side of the foie gras.