DUCK BREAST LACQUERED WITH STRAWBERRY SYRUP AND SMALL TURNIPS
---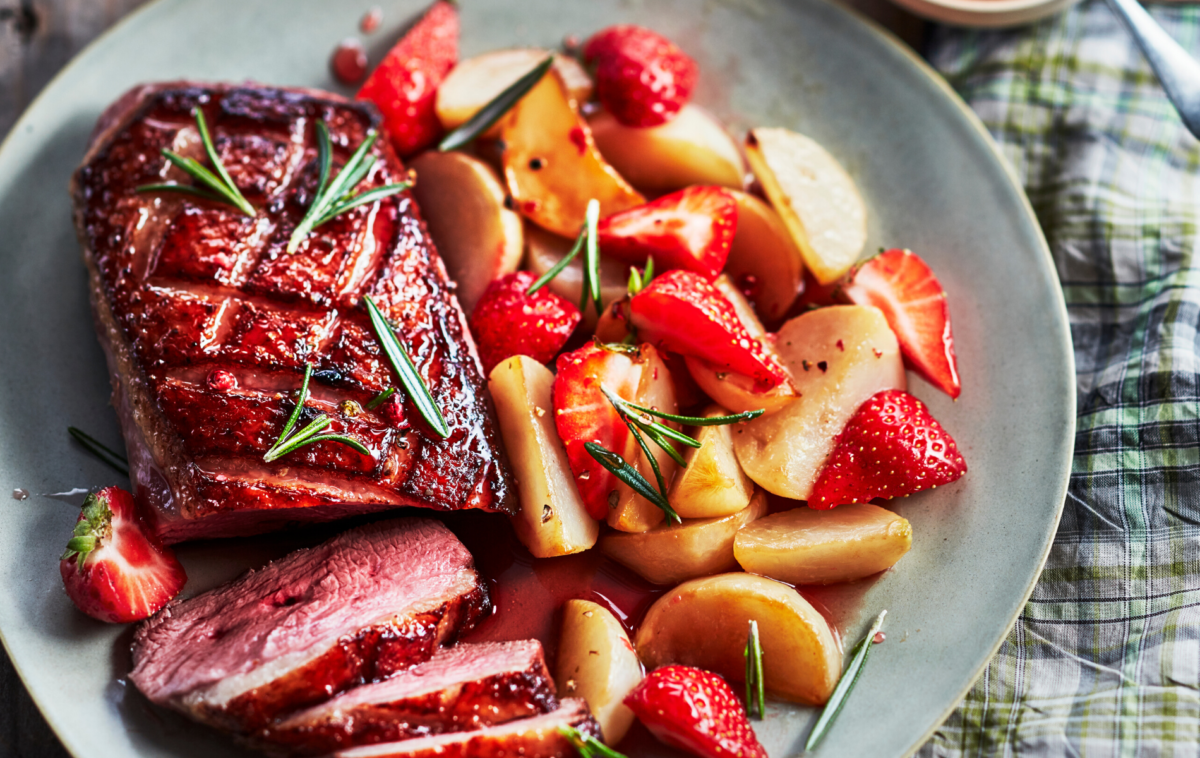 BY AUDREY COSSON

Serves 4
Preparation: 25 minutes.  Cooking: 40 to 45 minutes.
INGRÉDIENTS
2 Périgord duck breasts
1 dozen small turnips in bunches
250 g Périgord strawberries
20 g butter
1 tbsp granulated sugar
1 tbsp lemon juice
2 sprigs rosemary
Fleur de sel, ground pepper
Pink peppercorns
For the syrup
500 g Périgord strawberries
200 g caster sugar
Juice of 1/2 lemon
PRÉPARATION
1. Prepare the syrup. Hull and quarter the strawberries. Place them in a bowl with the sugar. Combine and let stand for 2 hours at room temperature.
2. Place in a blender and blend to a smooth purée. Sieve and only keep the juice. Pour this juice into a saucepan, add the lemon juice and bring to the boil for 5 minutes. Reduce the heat and simmer for 15 to 20 minutes while skimming regularly. The syrup must be of coating consistency. Remove from heat and allow to cool.
3. Scrub the turnips and without peeling, cut them into four or eight depending on their size. Hull and quarter the strawberries. Melt the butter in a saucepan and add the turnips. Sweat them for 2 minutes, then add 10 cl of water, the sugar and lemon juice. Lower the heat and simmer, covered, for about 10 minutes. The turnips should be tender and the juice in the bottom of the pan should be syrupy. Remove from the heat, add the strawberries and keep warm.
4. Preheat the oven to 170ºC (gas mark 5-6). Score the skin of the duck breasts in squares with a sharp knife, season with salt and pepper and sprinkle with pink peppercorns. Place them, skin side down, in a frying pan over high heat. Brown them and then turn them over.
5. Place the duck breasts in an ovenproof dish, pour over the strawberry syrup, sprinkle with rosemary and roast in the oven for 8 minutes. During cooking, regularly baste the duck breasts with the syrup.
6. Serve the sliced duck breasts immediately, with the small strawberry turnips and the rest of the syrup.

Crédit photo : Amélie Roche – Instagram
Stylisme : Audrey Cosson – Site web
[/col]
What to drink with it?
SERVE WITH...
RED MONTRAVEL
An obvious choice for duck fillets with this wine's intensity and silkiness. The notes of red berries are a delicious echo to the strawberry syrup.
PÉCHARMANT
Strength to go with the duck fillet, elegance and restraint to not steal its thunder… The Pécharmant has it all!