PÉRIGOURDINE SALAD
---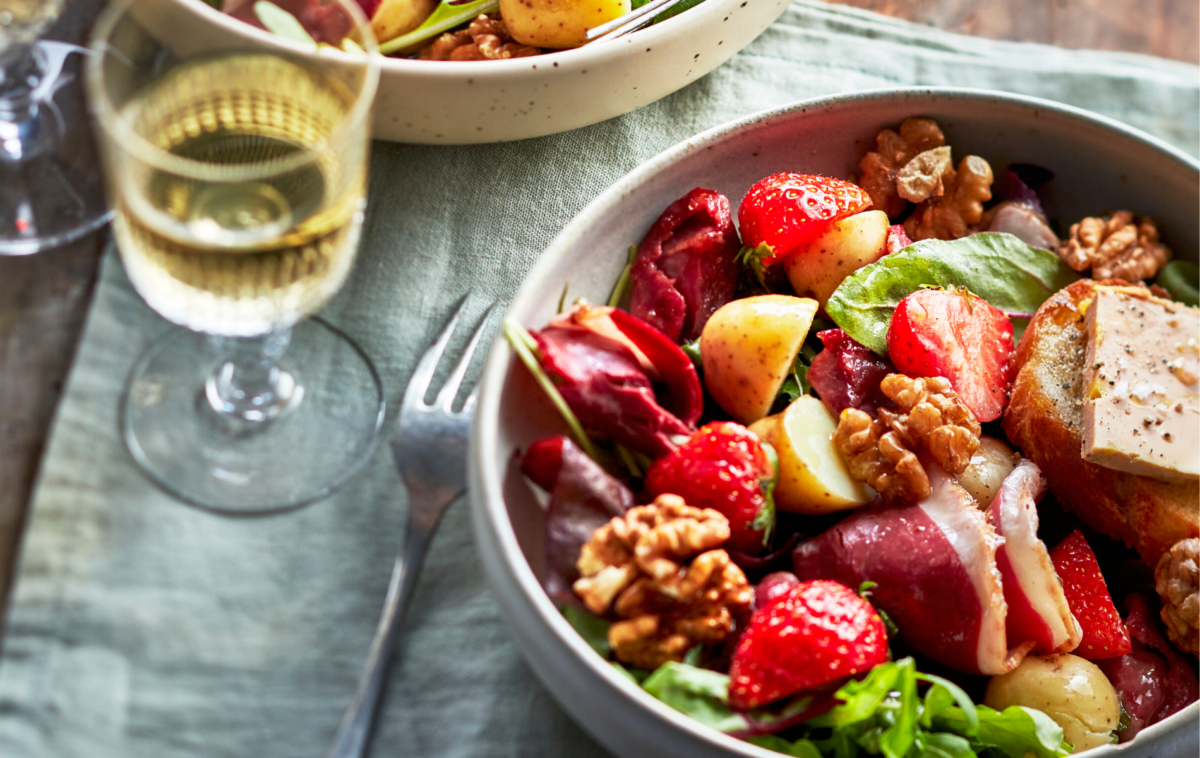 BY AUDREY COSSON

Serves 4
Preparation: 20 minutes.  Cooking: 25 minutes.
INGREDIENTS
280 g smoked duck breast slices
1 small block mi-cuit Périgord duck foie gras
200 g duck gizzards
Around 20 small new potatoes
75 g Périgord walnut kernels
100 g Périgord strawberries
1 tbsp honey
4 tbsp Périgord walnut oil
1 tbsp wine vinegar
1 tsp sweet mustard
2 large handfuls of mixed young leaves
4 slices of farmhouse bread
Fleur de sel, ground pepper
PREPARATION
1. Put the potatoes in a pan of cold water. Cook until tender. Drain them and let them cool. Cut them into slices.
2. In a hot pan, brown the gizzards for about 5 min. Remove them from the pan, keeping the juice and keep them warm.
3. Brown the slices of bread in the pan containing the fat from the gizzards. Remove them from the pan and keep them warm.
4. Cut the foie gras into slices. In a bowl, combine the honey, walnut oil, vinegar and mustard. Mix this vinaigrette with the mixed young leaves, season with salt and pepper.
5. Divide the dressed salad leaves equally between shallow plates. Add the potatoes, gizzards, slices of smoked duck breast, walnuts, hulled and quartered strawberries. Place on each plate a piece of toasted bread topped with a slice of foie gras and serve.

Crédit photo : Amélie Roche – Instagram
Stylisme : Audrey Cosson – Site web
[/col]
W

hat to drink with it?
SERVE WITH...
DRY BERGERAC
The Périgourdine salad is a festival of tastes and colours. The wine has the integrity to tame it and the aromatic generosity to enhance it.
BERGERAC ROSÉ
Soft and charming, this rosé weaves a very tender connection between the smoked duck breast, strawberry and walnut.